Let's face it, most people go to Google as their first stop for shopping for just about anything, and this especially applies to consumers looking to hire local service professionals. As a result, now small and medium-sized businesses (SMBs) often succeed or fail based on their ability to get found by customers online. With 98% of people using the Internet to search,1 over two-thirds of searches starting on Google through desktop and smartphones,2 and nearly all of those searchers choosing businesses from the first page of results, it is absolutely critical for an SMB to show up high in the Google listings. Even if you rank well, your competition is ranked right next to you, so it's about getting found with the right information that is compelling enough to win you a customer.

For those without previous online marketing experience, getting found on Google can seem like a mysterious and overwhelming process. Don't worry, we distilled the madness into simple steps and will share our favorite tools to make it less stressful.
What's Inside:
In this beginner's guide, we'll take you step-by-step through the most effective strategies for getting found in Google Maps during a local search. Our goal is to break these strategies down into a blueprint that's simple to understand, written in plain English, and ranked in order of easiest things to do first. Here are some of the things we'll cover.
What's not inside:
There are many things to fix for a business to rank in the search engines, like fixing your website with search engine optimization, getting reviews, social media, etc., but some of these are more advanced, so we'll cover these topics later in our intermediate & advanced guides.
Audience:
This guide is suitable for all small business types that have local customers, including:
Brick and mortar businesses that have offices or walk-in customers; e.g. stores, restaurants, accountants, etc.
Service businesses like contractors, plumbers, & roofers.
Companies without offices like photographers, web designers, etc.
It's not suitable for:
Brands without any local focus.
Freelancers / 1099er's that don't have a legal business address.

Uber drivers
Task Rabbits
What are citations & why are they important?
Google's ultimate purpose is to provide the most accurate and relevant information to users to offer the best search results for what users are searching for. How do they do that? One way Google does ranks local businesses is by looking at something called 'citations'. To ensure that businesses are legitimate, Google compares citation information from its own maps database to many Internet yellow pages directories and other websites which are known as 'citation sites'. Each citation helps Google to verify the accuracy of business information such as Name, Address, and Phone number, commonly referred to as NAP.3 Your profile page listings on Yelp, Superpages, Citysearch, are all common examples of citations. Google also looks at other information such as hours of operation, your website link, business description, license information, etc. Example case: Your real business name is Main Street Plumbing, and you are listed on 100 different Internet directories (Yelp, Citysearch, YellowPages, SuperPages, Merchant Circle, etc). Let's assume for some reason some of these directories have your old business information, that originates from your old print yellow pages books or your website. If half of these directories have your business listed as Main St. Plumbing Inc., and in the other half you're listed as Main Street Plumbing (notice the subtle spelling difference), this is a signal to Google that your business name is 50% reliable. If your competitor, John's Plumbing, has their information 90% consistent, then Google has a strong signal that their information is more reliable. So in this above example, John's Plumbing would be listed above you (all else being equal) because businesses that have more reliable and consistent information get higher rank in Google results.
How and where to update your listings
Now that we know a consistent name, address, and phone number (NAP) are super important to Google, in this section we'll teach you how to fix any inconsistencies in your listings. Where should you start? Well, you could go to each site one by one to check the consistency of your business info, but luckily there are tools out there can help make this process much faster and smoother. Our favorite tool is Moz Local.
1
Use Moz Local
Moz Local is a great free tool that shows you where your citations are incomplete, inconsistent, duplicated, or missing. To start, visit the Moz Local page, and enter your business name and zip code into the search bar.4
****

****Source: https://moz.com/local
2
Fix Your Incomplete Listings
After you enter in your business name and zip code, the Moz Local tool will show you all the citation sites where you have incomplete, inconsistent, duplicated, or missing information.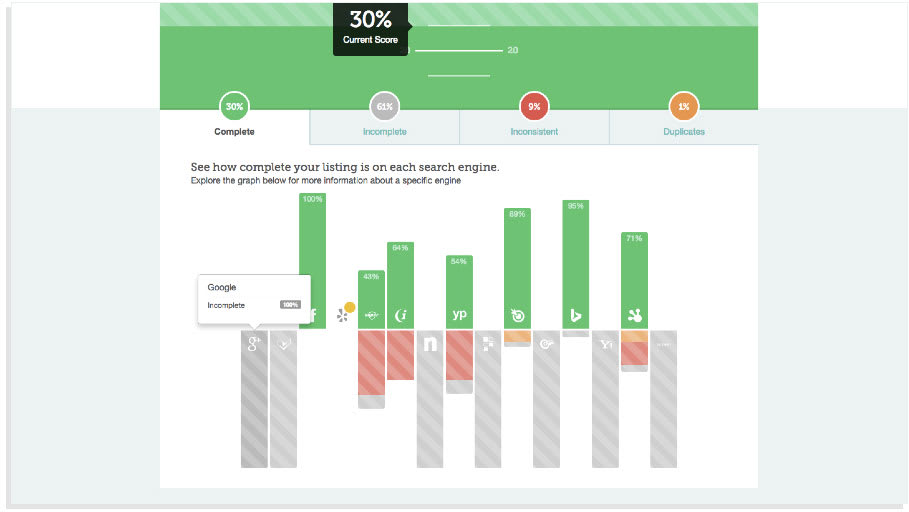 Next, go into each of the incomplete listings by clicking on the grey shaded bars. It will take you to the 'Incomplete' tab, where you can then click Update Listing or Create Listing. For example, if the first listing is for Citysearch.com, clicking on Update Listing will open up a new tab in your browser for the Citysearch website. Here you'll be able to 'claim your place page' and add any additional information (i.e. name and address updates, business categories, pictures, offers, etc) on your business' Citysearch profile page. Repeat this step for each incomplete listing. It should take no more than 5 to 10 minutes per site, and will prove to be incredibly valuable for your business.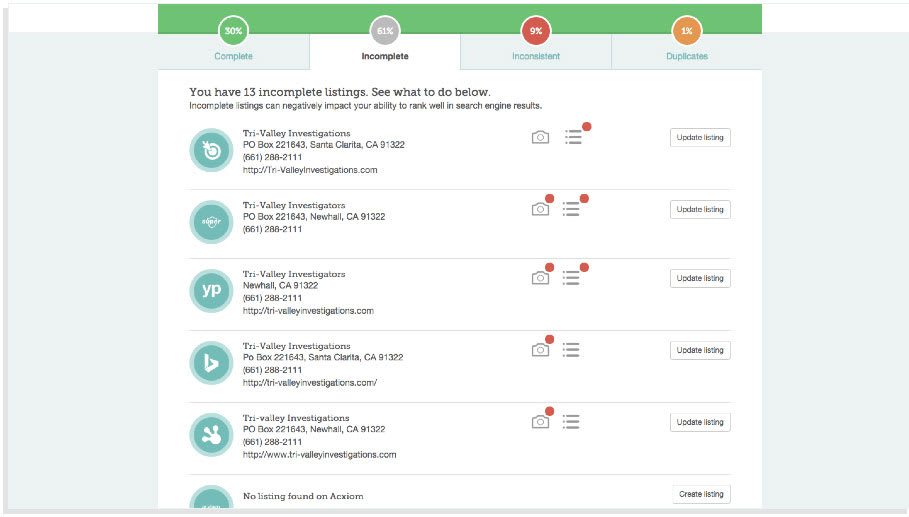 Source: https://moz.com/local
3
Make Your Profile Listings Content Rich
When claiming your pages on each directory site, take the opportunity to add as much relevant information as you can to your profile! What type of information is good to add to your profile?
Website: Be sure to put a link to your business website if you have one.

High-resolution images: People buy from businesses they can trust, and almost nothing conveys trust more than high-quality pictures. Add in as many high-quality images as you can. This could be your logo, pictures of inside and outside your store or office, pictures of your staff, action shots of you performing your service, before and after pictures of clients or projects, and any other pictures that could be relevant to a client. Most directories will let you add at least 5 images for your business page.

Business Description: A short description of your business is important so that you can quickly explain to visitors what your business does and why they should choose you. Keep your business description concise to capture the reader's attention. You'll want to include things like:

Business name
Years of experience
Specific areas of expertise
Service locations / Cities you service
Achievements
Offers
Call to action
Example business description:
"ABC Roofing has 20 years of experience in roof repair serving the Los Angeles metro area. We specialize in metal, shingle, and tile roof repairs, with a focus on complete re-roofs. We also offer top-notch siding, gutter cleaning, and leak detection services. Our clients love us because of our straight-forward approach, high-quality services, fair pricing, and warranty on all our work. As a result, we have earned top ratings online and with the BBB. Call us today for a free consultation and estimate."
Categories: Add in all the categories relevant to your business! Keeping with our example, if you do roof repair, you'll probably want to add categories like Roofing Contractors, Re-roofs, Roofing Tile Repair, Siding, Gutter Cleaning, etc. Each directory will offer a slightly different set of categories, so just choose what is relevant to your business.

License Information: If this is relevant to your business, and if the directory site has the option for license, bonding, or insurance information, add it in.

Links to Social Profiles: Add in your business Facebook or Twitter page if you have one. If you don't have one, don't worry, we'll cover creating one in a later guide.

Special offers: Not every site will allow you to create an offer, but consider creating one if you have the option. If you're confused about what to create as an offer, keep it simple. If you are a service business like a remodeling contractor, consider offering a Free Estimate or Remodeling Consultation. If you have a product driven business, try a Buy One Get One Free, or a discount.
Adding in all the information above has two BIG benefits:
1. When consumers land on your profile, you will stand out among competitors because you will have complete and better-looking information.
2. The more info you share about your business, with good descriptions and keywords, the more likely Google and other directories are to suggest your business to consumers during their searches. There is a good chance you could rank higher!
Tip: To save some time, open a Google Doc or Word file and save your exact business name, address, phone, pictures, business categories, and business description. When you claim your next profile page, you can refer back and copy/paste from your cheat sheet, and not have to retype the same information. Don't forget to save your logins and passwords for each directory too.
4
Fix Your Inconsistent Info
The Moz Local tool automatically finds where your business information is inconsistent and shows you where to fix it.
****

****Source: https://moz.com/local
Using the Moz Tool, make sure your citation information (name, address, and phone) is consistent on your directory profiles everywhere.
Be a stickler for details in your business name & address. Keep it exact. If your business name has Inc. or LLC. make sure it's on all citation sites that way. For your address, try to make sure your street name is the same everywhere. If you use abbreviated words like St. for Street, that's fine, just keep it consistent. The same applies for words like Suite and Ste, Road and Rd, Avenue and Ave, etc.

Make sure your original phone number is displaying everywhere, and not the metered/tracking phone numbers given to you by advertising programs such as HomeAdvisor, YellowPages, or Citysearch.
5
Get Rid of Duplicate Listings
Sometimes directory sites have 2 listings for your business. There's no simple explanation for why duplicate listings exist, but they do exist sometimes. Thankfully solving them is relatively easy to do and has a big benefit.5 The Moz tool shows you where those duplicate listings are, and has a convenient 'Fix Duplicate' button. When you click it, it sends an email to the relevant directory and asks them to merge the listings.
Conclusion
Fixing your business' citations will be one of the most powerful things you can do to grow your business. It's free, it's easy, and doesn't take much time. If you've never done this for your business before, you may find you have to fix your profile on 10 or more sites. Do not lose faith or get demotivated. Instead, make a simple plan, and whatever you do, keep going. Try claiming and fixing 3 of your profiles each day for a week. The good news is, most of your competitors will not know these strategies, and so something as simple as the tactics above could be the thing that gets you on the map and gets your phone ringing. If you've made it through each of the citation sites, and want more easy steps to grow your business, keep an eye out for our upcoming guides on getting reviews, optimizing your website to rank, and others. Disclaimer: Google is always changing the way it ranks businesses. This guide is based on best practices for ranking as of late 2014 / 2015, as recommended by leading local SEO experts. As these best practices change, we'll update this guide. Sources
1. https://www.brightlocal.com/insights/research/2. http://searchenginewatch.com/sew/study/2345837/google-search-engine-market-share-nears-68# 3. http://www.localvisibilitysystem.com/2014/03/10/10-guidelines-for-putting-nap-info-on-your-site-for-local-seo/ 4. https://moz.com/local 5. https://moz.com/learn/local/why-duplicates-matter
Here to help you connect with the best local professionals. For questions or inquiries, please contact us at support@expertise.com!