Everyone loves free stuff. And when that free stuff can help you grow your business and increase revenue, even better.
Unfortunately, with so many resources online, it can be difficult to find the right product for your business' needs. So we've created this resource to help you access the free tools you need to extend your budget and thrive.
At Expertise.com, we use many of these products daily. There are thousands of free tools online, so we'll update this guide as often as possible. We'll stop boring you with the long introduction and let you find what you need.
Business Services Near Me.
Image Optimizers
Images can highlight your product, break up long blocks of text, and improve your site's user experience. However, uploading huge files can slow down your site and drive visitors away at alarming rates. The best way to include high-quality images without crippling your page speed is to compress image files.
Compressor.io: Supports gif, jpeg, png, and svg files up to 10mb in size, and has an easy drag and drop feature.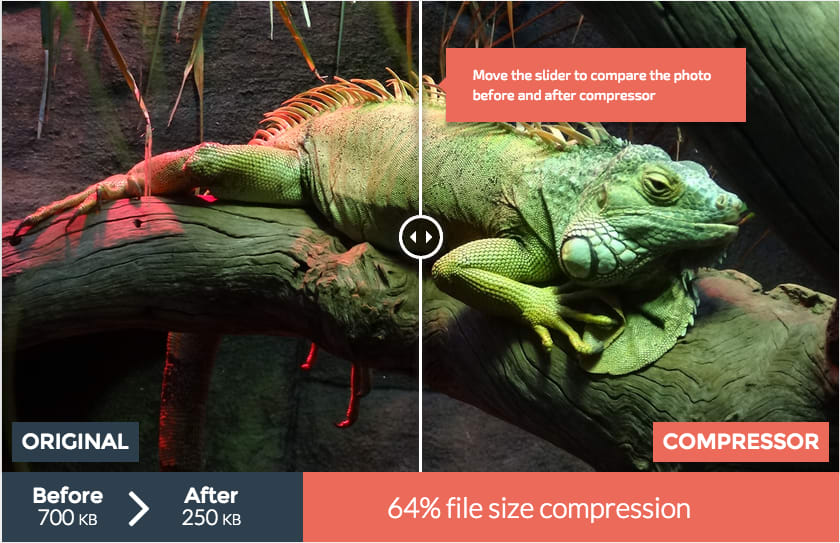 Kraken.io: Multiple compression options to ensure you maintain your desired image quality.
Design Tools & Image Editors
Easel.ly: A web app for creating infographics and data visualizations. You can customize one of the thousands of templates, or create your own from scratch.
Squarespace Free Logo: Create simple logos for your website or business cards. The graphic features are limited, but can create a clean, professional look. You must be a Squarespace user to download a high-resolution file that isn't watermarked.
Adobe Color CC: Create color schemes with a color wheel, use preset rules, or browse thousands of combinations.
Paletton: A tool for creating the perfect color combination. Use the interactive color wheel and get suggestions, or create your own rules.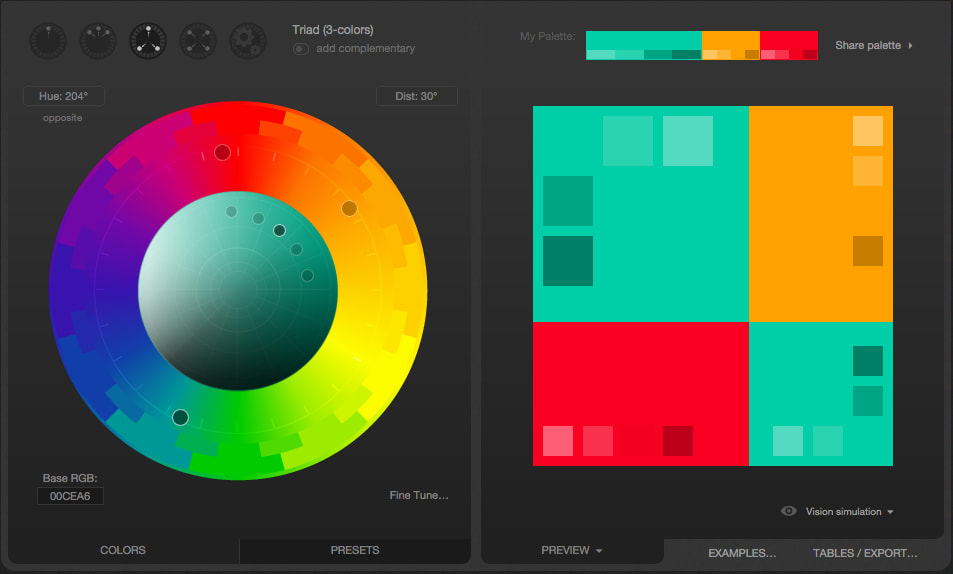 Brand Colors: Examine color codes of hundreds of major brands for inspiration and comparison.
UI Faces: Find and generate avatars for any interface and style. Adjust spacing, borders, size, background color, and more.
Window Resizer Chrome Extension: Resize your browser window to see how your website will look on various screen resolutions. Great for testing out responsible and mobile-friendly designs.
Canva: Create a design from hundreds of free elements, fonts, photos, and graphics, or upload your own into the drag and drop tool. You can also Access more than 1 million premium images for $1.
PiktoChart.com: Choose from more than 400 templates, icons, and graphics to create custom infographics, reports, and marketing deliverables.
Stock Images and Videos
It's time to get those generic impersonal stock photos off your website. Users aren't convinced by headset-wearing models or handshakes at a fake business meeting. Many people have seen significant improvements to their sites with the use of
images of "real" people
. Creative Commons Zero (CC0) images do not require attribution, even for commercial use. You may be able to find more visually appealing images from one of these free stock photo resources. Many of these images are of landscapes and cityscapes, but that can still bring life to your website in ways a cheesy stock image can't.
Unsplash: 10 new, high-quality new images uploaded every 10 days. You get unlimited downloads.
Death to the Stock Photo: Get emailed a pack of images once a month for free, or become a premium member for $15 per month for access to a complete library of images.
Iso Republic: Exclusive stock photo collection for creatives. Search the entire library or by filtered themes including architecture, nature, people, textures, and urban.
Pexels: Search from nearly 3,000 hand-picked royalty-free images from websites across the internet. 10 new images are added daily.
Jay Mantri: 7 new photos are uploaded every Thursday.
Gratisography: Unlimited downloads of high-quality photographs, with search filters for animals, nature, objects, people, cities, and whimsical images.
Free Tools for Content Marketing
Content is king. Whether you're trying to attract new customers, sell an e-commerce product, build authoritative links, send compelling emails or anything else, you need content to get you there. A website with no words isn't going to be helpful, and neither is a site full of typos and awkward sentences. These content tools can help you plan, perfect, and publish content faster and easier.
HemingwayApp: Grades your content's readability, and highlights phrases and sentences that are wordy, passive or difficult to read.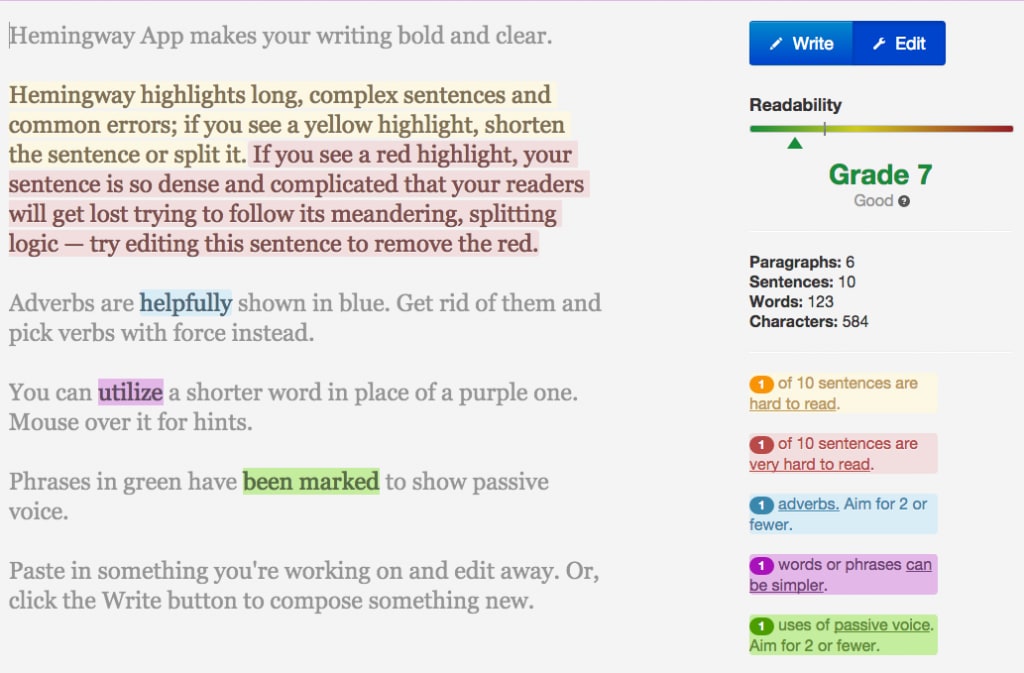 Grammarly: Checks more than 100 grammatical rules to help ensure your content up to snuff. Grammarly Premium also uses plagiarism detection software and checks for an extra 150 grammatical rules. An annual subscription costs $11.66 per month.
Editorial Calendar WordPress Plugin: It can be difficult for WordPress users to plan and schedule out content, but this plugin can make this process easier. You can drag and drop to change publishing dates, manage your drafts, edit titles and content, and much more.
https://vimeo.com/47251750
Title Experiments WordPress Plugin: On average, 80% of people will read your titles, but only 20% read the rest of your post. The better your headline, the more likely people are to read, share, and link to your content. This free plugin lets you A/B test as many titles as you want and measure performance and click-through rate.
Portent's Idea Generator: Out of blog or article ideas? Try this content generator to get the ball rolling. It's not foolproof, but can be an effective starting point.
Buzzsumo: View the most shared content and influencers for any topic or website. This can be a valuable part of any content strategy, outreach, competitor tracking, or SEO campaign.
Copyscape: This plagiarism checker also lets you compare content anywhere on the internet.
Free Email Management Tools
MailChimp: This email marketing platform, affectionally known as MailKimp to Serial podcast fans, lets members manage than 2,000 subscribers and send 12,000 emails per month for free. MailChimp can be integrated with Facebook or Wordpress, and tracks many key performance metrics.
SendInBlue: An email and SMS marketing platform that lets users manage contacts, distribute newsletters, and track performance. Send up to 9,000 emails per month for free.
SendGrid: Built on the world's largest email delivery infrastructure, SendGrid is a reliable and easily scalable platform for transactional or marketing emails. All messages sent through SendGrid use TLS encryption. With a free account, you can send up to 12,000 emails per month.
Mailtrack: Free and unlimited Gmail service lets you know who reads your emails in real time.
Mandrill: Created by MailChimp, Mandrill is a secure and reliable interface for transactional emails. Send up to 12,000 e-commerce or personalized emails per month for no cost.
Search Engine Optimization should be a focus for anyone operating a website and looking to grow their audience. Previously, we covered the essentials to an optimized small business website and ranking in Google Maps. This list will identify free tools to amplify your SEO strategy and may help you improve rankings, get content ideas, analyze competitors, and build links.
Site Tracking
SEMrush: Analyze SEO, paid search, or display advertising performance, compare domains side-by-side, track ranking positions, and complete in-depth keyword research. Free features are limited, but enough to scratch the surface.
Ahrefs: A popular tool within the SEO community, but is easy enough for anyone to gain valuable insights into backlink profiles, referring domains, potential link targets, trending content, website performance, and much more. The free version only allows a few queries per day.
Majestic: Features an in-depth site explorer, backlink history checker, and the Majestic Trust Flow and Citation Flow charts to visualize whether a website has a spammy link profile.
Quantcast: The better you understand your customers, the better you can tailor your service to their needs. Quantcast gives detailed insights into user demographics for your mobile app, website, or platform. With these tools, you may be able to attract new customers and lower your marketing costs.
Keyword Research
Ubersuggest: Get thousands of keyword suggestions in seconds. Just enter your query and click to explore all the long-tail options available. While a valuable tool for ideation, Ubersuggest does not offer search volume data.
AdWords Keyword Planner: Compare search volume of different keywords and get suggestions for new terms to target. All you need is an AdWords account.
Google Trends: Find trending story ideas, and track the popularity of different subjects over time and by geographic location.
Site Optimization and Analytics
MozBar: Quickly identify any webpage's page authority, domain authority, social media shares, on-page metrics, and other general attributes.
SEO Site checkup: Analyze meta tags and your HTML coding, compare keywords, find broken links, and much more.
Google Analytics: A fantastic tool to understand who is visiting your website and how they are behaving. You can use this data to guide decisions around increasing traffic, building links, converting leads, and much more. All you have to do is embed a unique code into your website, so Google can track users' behavior. To get the most out of Google Analytics, check out Analytics Academy and the Analytics Youtube page.
SEOQuake: Helps Firefox, Chrome, and Opera users obtain information about any website, including keyword density, page rank, Google index, nofollow links, and much more.
Free SEO Resources for Local Businesses

Whitespark: Tools and services to manage and optimize your local search presence. Track rankings, edit citations, find link prospects, and access printable instructions to encourage and instruct customers on how to leave Google reviews.
Free Focus and Productivity Resources
Music
For many people, ambient noise or consistent music without vocals can
boost creativity and focus
. Depending on your line of work, creating a distraction-free workspace so you can get into your "
flow
" state can unleash a new level of productivity and creativity. Give one of these tools a try to see for yourself.
Noizio: A Mac OS X 10.8+ and iOS app to mix up to 10 ambient background noise. I strongly recommend "Campfire," "October Rain," and "Thunderstorm," no matter how much my coworkers make fun of me for it.
Noisli: A background and color generator designed to boost productivity or help you relax. Is available in your browser or as a Chrome extension.
Deep Focus on Spotify: A calming mix of Atmospheric Rock to keep you in your work zone. To skip ads on your computer or mobile device, subscribe to Spotify Premium for $10.71/ month and a 30-day free trial.
Spotify "Focus" Playlists: If you're not into white noise and the sounds of nature, you can choose one of Spotify's hundreds of curated playlists to help you focus.
Block Distracting Websites
Stayfocusd: Have trouble staying off your favorite websites? This Chrome extension lets you add websites to block or set daily time restrictions on.
Self Control/ Cold Turkey: Mac/Windows apps that help you block distracting websites. Cold Turkey has the added feature of letting you set break times, and enjoy your internet surfing guilt-free.
Communication, Collaboration, and Workflow Management
Trello: Set up customizable color-coded boards for yourself or your team to keep track of tasks. Check out Trello's Inspiring Boards section if you're not sure how to best visualize your tasks.
Slack: Instantly message your team like never before. You can send direct messages or organize group conversations into different channels according to project type, topic, team, or anything else you want. You can easily share files with the drag and drop feature. Lastly, don't forget to attach a gif to your messages with Giphy!
Google Hangouts: Instant message, video chat, or group video conference with any Gmail user. You can also use Google Hangouts to make phone calls.
Skype: A free platform to chat, call, or video conference with clients, coworkers, and more.
Mindmup: Create limitless digital mind maps that are easily shared via Google Drive.
Data Storage
Evernote: Bring your work together on a digital platform easily synced on any smartphone, tablet, or computer. Free features include note taking, picture clipping, task list creation, and real-time collaboration.
Dropbox: Safe cloud storage up to 2GB, if you can get your friends to sign up with your referral code. 1TB of storage costs as little as $99/year
Google Drive: Save and share just about anything. First 15gb are free. Easily synced with multiple users on just about any device. You can also use Google Docs for text files and spreadsheets.
Yanado: A task management within Gmail. Free for teams of up to 5 people. Check out their YouTube Channel for tutorials on how to get the most out of their service.
No matter the size of your business, social media is a can't-miss opportunity to connect with customers and manage your online reputation. However, planning and scheduling social media posts on several platforms can be a challenge, so we found a few resources to make that task easier.
Click to Tweet: Create, manage, and view the analytics for all your tweets in one place.
Hootsuite: Create, schedule, and track performance of all your social media posts. You can manage up to three social media profiles for free. The Pro subscription costs $9.99/month.
Spruce: Tweets with images get 150% more retweets. In seconds, Spruce lets you create images optimized for Twitter.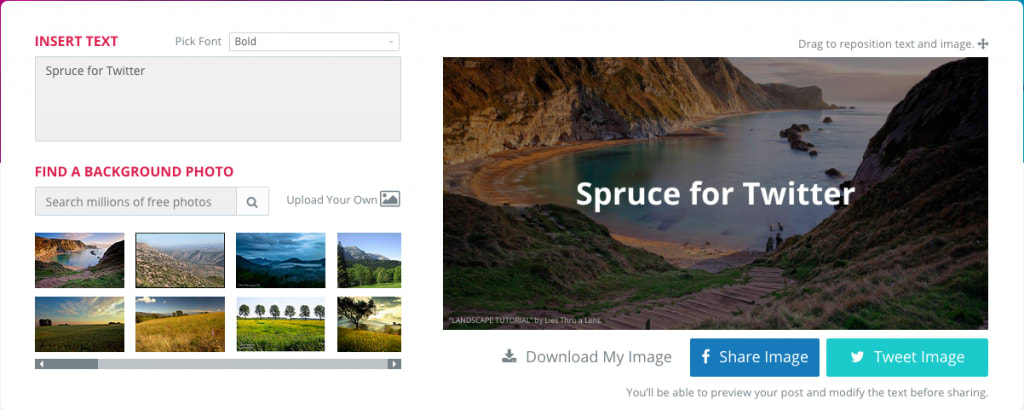 SharedCount: Track any URL's shares, likes, tweets, +1s, pins, and more.
Latergram: Schedule and manage your Instagram posts from your computer or mobile device.
Klout: Klout helps users get recognized through social media. It suggests unique content ideas and lets you track the results.
SocialRank: Helps you identify, track, and engage your most active Twitter and Instagram followers.
HashtagifyMe: Search and compare the popularity of different Twitter hashtags to maximize your tweets' visibility. Paid accounts give additional insights into top influencers and up to 30 related hashtags.
Bitly: Shorter link titles can increase engagement and click-through rate. Bitly lets you create, share, and track shortened links, analyze your audience, and target new audiences based on that data.
During the daily grind of owning and operating a business, it's easy to lose sight of the many opportunities to learn and grow. But taking the time to step back and develop new skills can make the difference between a stagnant business and one that launches to the next level.
Code Academy: Interactive courses to help you learn how to program in many different languages.
University of Reddit: Remove any preconceived notions you have about Reddit, this is very different from the general forums. Follow courses or take in information at your own pace.
OpenStudy: Join an online community of learners to make the most of your studying experience.
LifeHacker U | Summer 2015: Find courses in computer science, finance and technology, science and medicine, mathematics, social sciences, classics, and humanities, law, and much more.
Khan Academy: Take control of your continued education by working at your own pace through one of thousands of free online courses and more than 100,000 interactive exercises.
W3 Schools Online Web Tutorials: Access tutorials and references for many different web development languages and topics, including HTML, CSS, PHP, SQL, and JQuery.
TED Talks: "Ideas worth spreading, or challenging." A nearly endless library of video presentations by guest speakers on a variety of subjects.
http://www.ted.com/talks/simon_sinek_how_great_leaders_inspire_action
If you're looking for courses created and led by professors at some of the top universities in the world, we've got you covered. These Universities have created open course platforms so you can take real classes, without the tuition.
Conclusion
So there you have it! Hopefully, you were able to find the tools for your need. There is a universe of free resources online, and we want to give you access to as many as possible in one place, so check back soon for updates! And if you see anything we missed, don't hesitate to reach out to us at
ideas@expertise.com
so we can share that resource with the community.
Business Services Near Me.